Stop by and see us at our walk-up window. You can enjoy our bagels fresh any day of the week.
Whether you're ordering large quantities of bagels or a single sandwich, Rockstar Bagels provides pre-ordering for you convenience. We strongly encourage ordering ahead for large quantities of bagels to ensure you don't miss out on your favorite menu items. Discounted prices are applied to pre-ordered menu items.
Large Orders (bagels and cream cheese only)
To place an order, email us at rockstarbagels@yahoo.com. Please specify quantities, flavors and provide a preferred pick-up time. Orders must be placed at least 24-hours in advance and are available for pick-up only.
Small Orders (bagels, sandwiches and beverages)
To place an order for sandwiches, beverages and bagels in small quantities, call us at (512) 524-1401. Orders must be placed at least 1-hour in advance and are for same day pick-up only. No voicemail available.
Rockstar Bagels specializes in wholesaling bagels all across the Austin area. We deliver 7 days a week at no charge. Depending where you fall on our route, we only require a half dozen or dozen minimum for delivery. For more information on wholesale pricing and deliveries, email us at rockstarbagels@yahoo.com.
Can't make it to our eastside location? Not to worry, you can find Rockstar Bagels around the Austin-area at the following locations:
Alta's Café
Austin Java
Ashton in Austin
Brian's Brew
Café Crème
Cafe Ruckus
Capital Sandwich
Caffe Medici
Cenote
Cherrywood Coffeehouse
The Coffee Bean & Tea Leaf
Coffee People
Dolce Vita
Ebar at Nordstrom
Epoch Coffee
Facebook
Fair Bean Coffee
Farmhouse Delivery
Farm to Market Grocery
Galaxy Café
Google
Hyatt Lost Pines
Holy Grounds at St. David's Medical Center Industrious
in.gredients
Irie Bean Coffee Bar
Juan Pelota Café
Malone Coffee Trailer
Midtown Grocery
Mozart's Coffee Roasters
Mutual Mobile
Omni Barton Creek
Once Over Coffee Bar
Pacha Cafe
Patika Coffee
Quickie Pickie
Rio Rita
Royal Blue Grocery
Sa-Tén
Sheraton Hotel
South Congress Hotel
Snell Law Firm
Spanning
Texas Coffee Traders
The Beer Plant
Tableau Software
TMI
Texas Espresso
Thunderbird Coffee
Victory Medical Cafe
W Austin Hotel
Wanderlust Coffee Truck
Wheatsville Co-op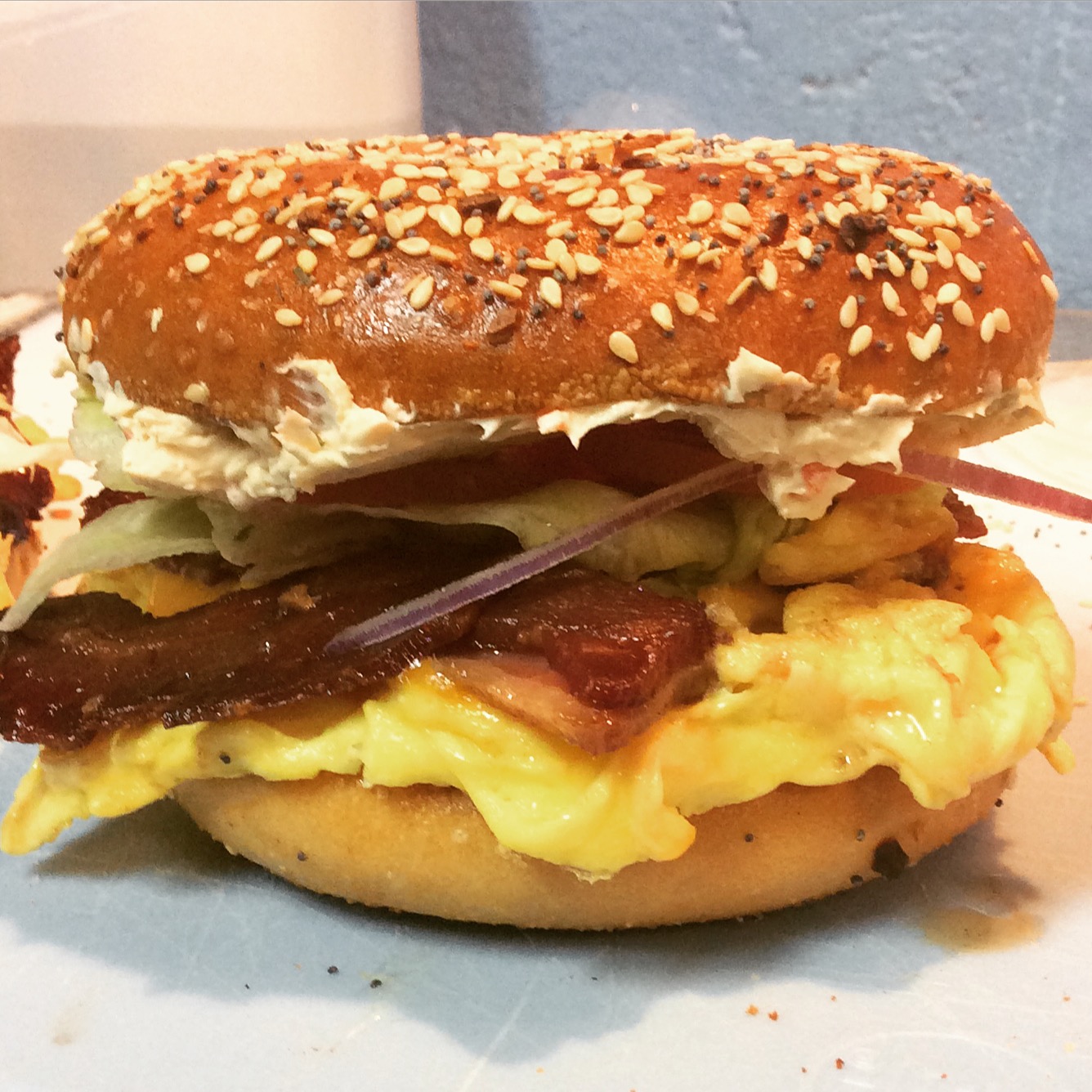 Rockstar Bagels is a neighborhood bagel shop and wholesale production facility in East Austin founded in March 2009. The bakery provides Austin-area coffee shops, grocery stores, food trailers and cafés with fresh products, while the walk-up window, opened in March 2014, serves the neighborhood locals breakfast and lunch.
Rockstar Bagels is known for their traditional New York-style bagels: fermented, boiled and freshly baked 7 days a week.

It all started New Year's Day, when Joe Humel, a hungry, out-of-work drummer, decided to feed himself. A traditional bagel had been on his mind for months. After some research and recipes, day one was upon him. Obsession and passion overtook him as he slaved away day and night to fill an appetite larger than food.
After several weeks of feeding local musicians and wondering vagabonds, his product gained interest from people who were willing to pay for it.
Joe says it was no more than "surface" thoughts that made him decide to start a business. "It was as if the path was already laid out for me," says Joe "I couldn't see any other choice."
It took just a small loan and some legal research to create Rockstar Bagels. "The path of an entrepreneur is one of heart, and only in freeing yourself from expectation can you find the success you are looking for."
Address
1900 Rosewood Ave
Austin, TX 78702
email
phone
(512) 524-1401 (no voicemail)
Hours
Mon–Fri 7am–1pm
Sat–Sun 8am–2pm